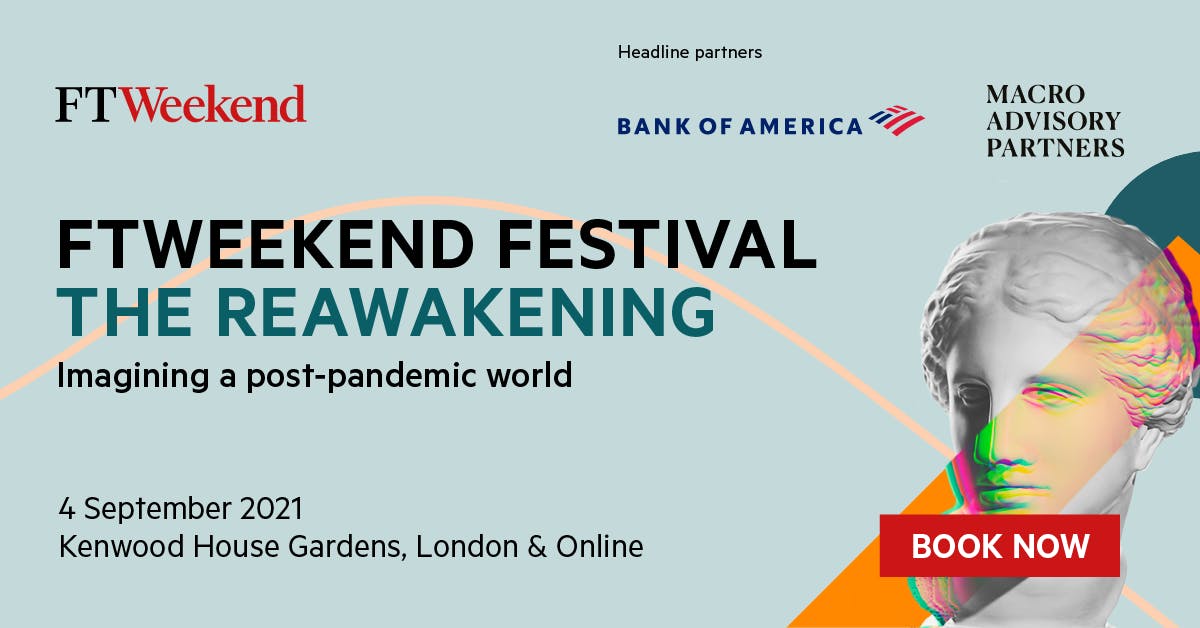 Eminent figures from across literature, arts and public life will join the FTWeekend Festival in less than three week's time under the theme of Reawakening: Imagining a post-pandemic world.
Confirmed speakers now include:
Former prime minister, Sir John Major
Oxford AstraZeneca vaccine creator, Sarah Gilbert
Booker prize winning novelist, Ian McEwan
Historian Simon Schama
Chef, Angela Hartnett
Victoria & Albert Museum director, Tristram Hunt
Novelist, Elif Shafak
Fashion designer and TV personality, Patrick Grant
Author, Rachel Johnson
Poet, playwright and activist, Ben Okri
Editor Roula Khalaf, More or Less presenter and FTWeekend columnist Tim Harford and chief economics commentator Martin Wolf are among an extensive contingent of high-profile names from the FT. Full lineup details are available here.
Held at Kenwood House Gardens, London, the festival is where FTWeekend journalism comes to life, exploring great issues of the day - and celebrating life, literature and the arts. The breadth of FTWeekend content will be on display across eight stages: Literature & Tech; Arts; Food, Drink and Travel; FT Money; House & Home; How To Spend It; FT Cooks Live and the FTWeekend main stage.
Guests will enjoy an array of rich and varied experiences during a day out amongst the fizzing atmosphere of the festival. They can indulge in cooking demos, join poetry readings, participate in quizzes and browse the exhibition village for beautiful home interior ideas, arts and style inspiration.
Other experiential highlights include:
Discover the transformative power of music when composer and pianist Max Richter performs live 
Delight in a celebratory ten-piece fanfare by the London Symphony Orchestra's Brass Ensemble
Learn how to start a great wine collection - join a wine tasting session with Noble Rot co-founder Dan Keeling
Join Alice Lascelles for a tasting of five drams of whisky from some of the world's most exciting new-wave distillers
Have your book signed by the author - Elif Shafak, Anjana Ahuja, Tim Harford and more will be hosting book signings on the day
Alec Russell, FTWeekend editor, said: "We are thrilled to have drawn such an impressive and eclectic group of speakers to the FTWeekend Festival. It's the moment each year when we bring our journalism to life on stage, and seek to inspire, entertain and provoke, just as we do in print and online each weekend. I'm confident that at Kenwood House we'll give FTW readers and guests the uplifting outdoor experience that we have so missed, as we reconnect and look to the future".

For this year's festival, FTWeekend has collaborated with four artists on a selection of special edition tote bags that will be distributed to each guest. With four unique designs, the bags will showcase work from Victoria Cantons, Helina Metaferia, Shantell Martin and Ben Okri. More information about the artists is below.

On the edge of Hampstead Heath and surrounded by tranquil landscaped gardens Kenwood House has been home to the FTWeekend Festival since 2016. FT Live will continue to monitor and follow Government COVID-19 regulations and guidance throughout the planning, opening and running of the event. All who attend will be asked to provide proof of vaccination or a recent negative test. The event's COVID-19 plan is available here.

Images are available for use by media. Click here to request access.

About the Financial Times

The Financial Times is one of the world's leading business news organisations, recognised internationally for its authority, integrity and accuracy. The FT has a record paying readership of more than one million, three-quarters of which are digital subscriptions. It is part of Nikkei Inc., which provides a broad range of information, news and services for the global business community.

Victoria Cantons was raised in a Catholic and Jewish home in South London, the only child of Mediterranean immigrants. She also has a transgender history. 

Her work is autobiographical and confessional with political undercurrents which question the limitations and stigma on personal freedom and individuals' boundaries. Sociopolitical ideas explore the notion of what we are or can be and how people shape their beliefs. 

Questions she returns to are: How do I fit into all of this? What is the common ground? What does it mean to be human? 

Cantons has said: "What we present to the world is multifaceted and not always visible, a continuous evolution in response to experience involving power, identity, and our perceptions of each other. We are connected yet we are also unique."

Victoria Cantons b.1969, studied BA Painting at Wimbledon College of Arts (2017). She received the Felix Slade Scholarship (2018) and was awarded Distinction in MFA Painting from Slade School of Art (2021). She was included in the Financial Times' How To Spend It: The Hope Issue (2021) and in White Cube Gallery's showcase Tomorrow London (2020). Cantons also curated Slade masters graduates in London Grads Now at Saatchi Gallery (2020).

Helina Metaferia is an interdisciplinary artist working across collage, assemblage, video, performance and social engagement. 

Metaferia received her MFA from Tufts University's School of the Museum of Fine Arts and attended the Skowhegan School of Painting and Sculpture. Recent solo and group exhibitions include Museum of African Diaspora, San Francisco, CA; Museum of Contemporary Art Detroit, Detroit, MI; New York University's The Gallatin Galleries, New York, NY; Modern Art Museum Gebre Kristos Desta Centre, Addis Ababa, Ethiopia; and a solo presentation at Frieze Art New York, among many others. Her solo exhibition, "Generations," will open at the Museum of Fine Arts, Boston, from November 2021 to April 2022. Her work has been featured in publications such as The New York Times, The Financial Times, Hyperallergic, Artnet News, The Boston Globe, and The Washington Post.

She is currently an artist in residence at Silver Art Projects at the World Trade Center, New York City. Metaferia is an Assistant Professor in the Visual Art department at Brown University, and lives and works in New York City.

Shantell Martin is one of today's most groundbreaking multimedia artists. Known for her ongoing exploration of the vast potential of the drawn line, below the surface of her signature black and white drawing is an exploration of the reciprocal relationship between artist and viewer, in which a work of art is more than an object of admiration. Exploring themes such as intersectionality, identity, and play, Shantell is a cultural facilitator, forging new connections between fine art, education, design, philosophy, and technology. 

In concert with her work as a fine artist, exhibiting at institutions such as Albright-Knox, the Museum of Contemporary African Diasporan Arts, and MoMa, Shantell's practice continuously pushes the boundaries of creative expression through thoughtful, innovative collaborations with artists, brands, and cultural institutions such as Pulitzer Prize-winning performance artist Kendrick Lamar, acclaimed designer Kelly Wearstler, the New York City Ballet, Tiffany & Co., and Nike. 

Shantell is also fascinated with the relationships between storytelling, visual art, and technology. She is an adjunct professor at NYU Tisch ITP (Interactive Telecommunications Program) and completed a two-year tenure as an MIT Media Lab Visiting Scholar, where she worked with the social computing group to use drawing as a medium to explore the interaction of social processes with physical spaces.

Ben Okri is a poet, playwright and novelist. He has published many books, including The Famished Road, which won the Booker Prize for Fiction in 1991. His other novels include Starbook, The Age of Magic, Dangerous Love, and Astonishing The Gods. He has published eleven novels, five books of Short Stories, four volumes of poems, and two collections of essays. He has invented a new form of storytelling called the " Stoku", which is a cross between the short story and the haiku. 

His works have been translated into 27 languages. He has been a Fellow Commoner in Creative Arts at Trinity College, Cambridge and is a Fellow of the Royal Society of Literature. He was awarded an OBE.

Ben Okri's books have won numerous international Prizes including the Commonwealth Writer's Prize for Africa, the Paris Review Aga Khan Prize for Fiction, the Chianti Ruffino-Antico Fattore International Literary Prize, and the Premio Grinzane Cavour Prize. 

The recipient of many honorary doctorates, he has been since 1997 a vice-president of the English Centre of International PEN and was presented the Crystal Award by the World Economic Forum for his outstanding contribution to the Arts and to cross-cultural understanding. 

He wrote the script for Peter Krüger's film 'N: The Madness of Reason,' which won the 2015 Ensor Award for Best Film. 

He wrote a much acclaimed adaptation of Camus's 'The Outsider' for The Coronet, in London in 2018, which won The Offies Award for Best Theatre Production. In 2020, his play, 'Madame Sosotris,' was performed to full houses at the Pulloff Theatres in Lausanne, Switzerland. His most recent play, 'Changing Destiny,' is about to open at The Young Vic in London. 

In 2019 his novel, 'Astonishing the Gods,' was selected as one of the BBC's '100 novels that shaped our world.'

His most recent books are 'The Freedom Artist' and a volume of short stories, 'Prayer for the Living.' His latest book of poems, 'A Fire in my Head,' was published in January 2021.  

He is an honorary Fellow of Mansfield College, Oxford. He was born in Nigeria, and lives in London.

-->