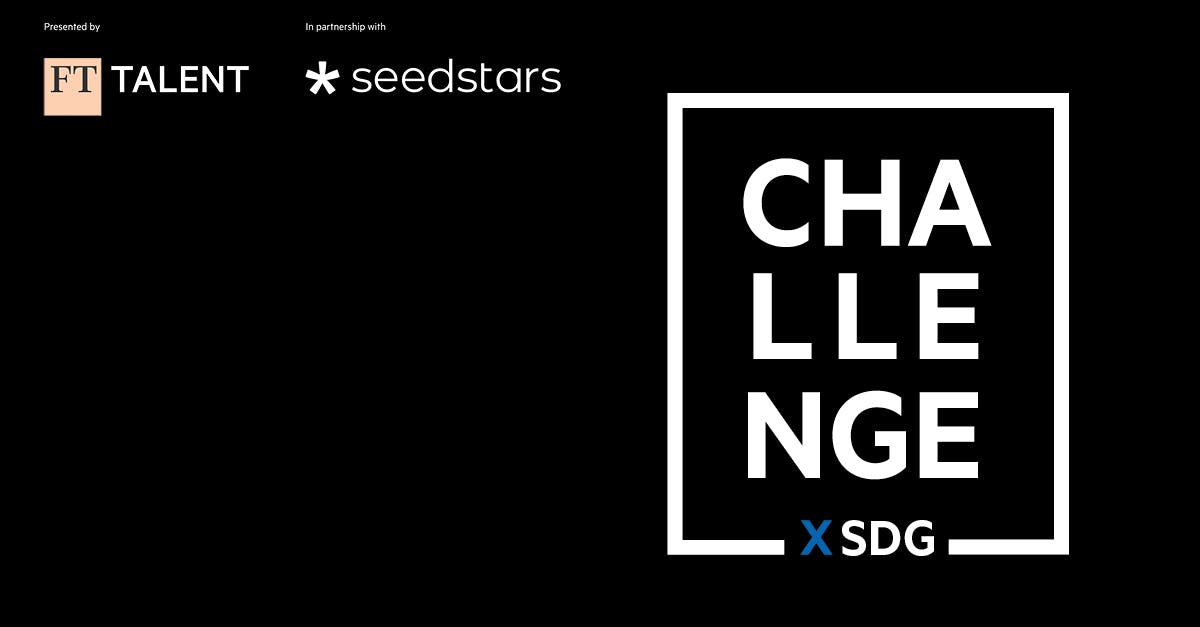 The Financial Times partnered with Seedstars, a Swiss-based company that invests and supports startups from emerging markets, to host the first FTxSDG Challenge 13-17 December. More than 3,500 people watched the five-day event from every corner of the world, from 145 countries, with people connecting from Nairobi to Tokyo, from Melbourne to Los Angeles, from Buenos Aires to Paris.
The competition was launched to empower promising, impact-driven startups and entrepreneurs with learning and funding opportunities. The Challenge has involved more than 150 startup founders and early career professionals from around the globe, especially emerging markets. 
The focus on the UN's Sustainable Development Goals (SDGs) aimed to bring awareness to global problems, while also empowering entrepreneurs who are creating solutions that can address these issues. The selected themes were Gender equality, Climate Action, Quality Education — supported by the School of Management Fribourg (HEG-FR) — Good Jobs and Economic Growth, Reduced Inequalities and Good Health and Wellbeing. 
The event programme included one-month's access to the Investment Readiness Sessions by Seedstars and a five-day event filled with workshops, masterclasses, talks, mentoring and networking hosted by FT and Seedstars experts. Top speakers included FT's Moral Money Editor Simon Mundy, UNICEF's Chief of Innovation Kristoffer Gandrup-Marino, World Food Programme's Innovation Consultant Oday Kamal, World Bank's Digital Development Consultant Dr. Lara Srivastava, FT's CCO Jon Slade and FT's business education editor Andrew Jack. 
The six winning startups are: 
The three  winning ideas of the hackathon experience are: 
1st Place: Agro Eco Hub with Pato Kelesitse (Botswana), Mathieu Gaudin (Italy), Tolulope Joshua Ashaolu (Nigeria), Dominika Geregova (London), and Maria Vittoria Scino (Italy).
2nd Place: DaisForUs with Jay Mark Balmes (Philippines), Svetoslava Francesco Borri (France), Svetoslava Rozhkova (Bulgaria), Atiq Rehman (Pakistan), and Rieke Caroline (Indonesia).
3rd Place: Ghana Connect with Izz Hossin (Malaysia), Christian Olivier Andogui (Cameroon), Kaidi Ru (China), and Allan Okoth (Kenya).
The event was presented live by the FT Talent Team, the innovation hub of the Financial Times. The Challenge was moderated by Virginia Stagni, FT's Head of Business Development and FT Talent Director. 

The FT Talent Challenge is a series of international events. FT Talent selects the most innovative and diverse individuals from thousands of international applicants for a multiple-day challenge experience, giving them a chance to understand and challenge the existing ecosystem and benefit from FT and partner expert insights alongside invited guests. The challenge helps foster new creative thinking, develop potential solutions to strategic business issues and stimulate disruption within the business ecosystem.

About the Financial Times

The Financial Times is one of the world's leading business news organisations, recognised internationally for its authority, integrity and accuracy. The FT has a record paying readership of more than one million, three-quarters of which are digital subscriptions. It is part of Nikkei Inc., which provides a broad range of information, news and services for the global business community.

-->