FT tops one million paying readers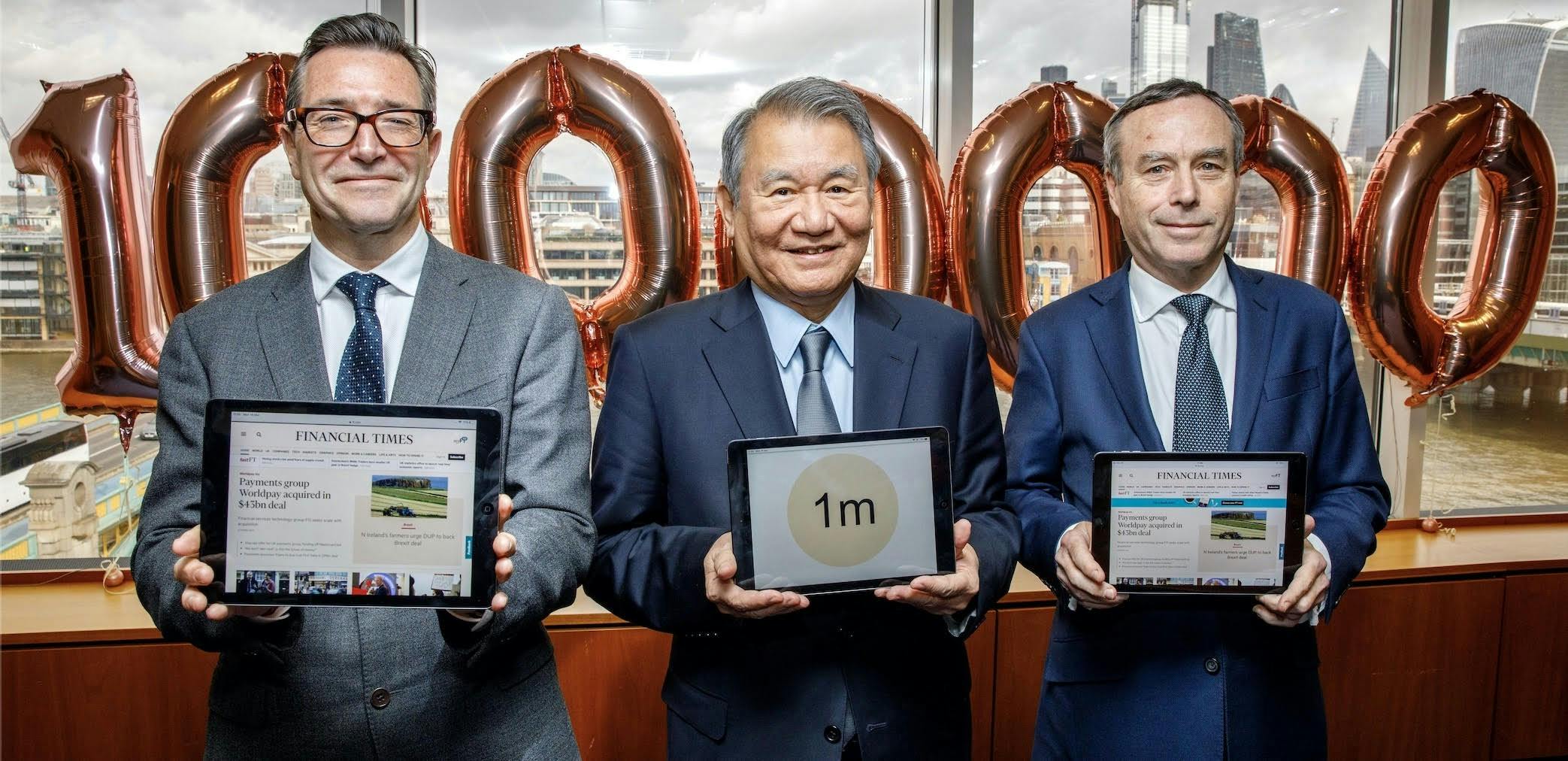 John Ridding, CEO, Financial Times, Tsuneo Kita, Chairman & Group CEO, Nikkei and Lionel Barber, Editor, Financial Times
The Financial Times today reached a record paying readership of one million, an all-time high and a key strategic goal.
The milestone, reached one year ahead of schedule, comes on the back of a strong business performance, with both operating profits and revenues growing last year.
In a staff note to mark the occasion, FT CEO John Ridding said: "We have reached this record by developing a winning strategy, shared and supported by our owners Nikkei, who themselves now count more than 650,000 digital subscribers. By pioneering a subscription model and investing in digital transformation, we have proved that quality journalism can be a quality, growth business. We have also shown the enduring value of independent, authoritative and reliable reporting and analysis in a time of fake news, sensationalism and polarisation in media."
The FT first introduced a paywall in 2002. Ahead of the pack, it established a 'metered' access model in 2007 before moving in 2015 to paid trials as its primary pay model. Digital subscriptions now account for more than three-quarters of the FT's circulation, although the iconic print newspaper continues to be profitable. 70 per cent of FT readers are outside the UK, illustrating the publication's global reach.
Management account figures shared with staff on Friday showed the FT Group recorded a strong financial performance last year, with operating revenues totalling £383m and operating profits of £25m. Revenues and profits have continued to rise since the FT was acquired by Nikkei in 2015.
Under editor Lionel Barber, the Financial Times won nearly 50 global awards and honours for its quality journalism and newsroom innovations in 2018, including the 'Newspaper of the Year' and 'News Team of the Year' prizes at the British Press Awards. The FT also won 'News Provider of the Year' at the British Journalism Awards.
This month the FT will move its global headquarters from One Southwark Bridge in London to its historic home, Bracken House in the heart of the City, making 2019 a landmark year in the publication's 131-year history.
About the Financial Times
The Financial Times is one of the world's leading business news organisations, recognised internationally for its authority, integrity and accuracy. The FT has a record paying readership of one million, three-quarters of which are digital subscriptions. It is part of Nikkei Inc., which provides a broad range of information, news and services for the global business community.
The FT Group provides a broad range of business information, news and services. It includes the Financial Times and FT.com, Medley Global Advisors, 16 news and information brands under FT Specialist, and a number of joint ventures.