FT Knowledge Builder tool helps readers quantify topic expertise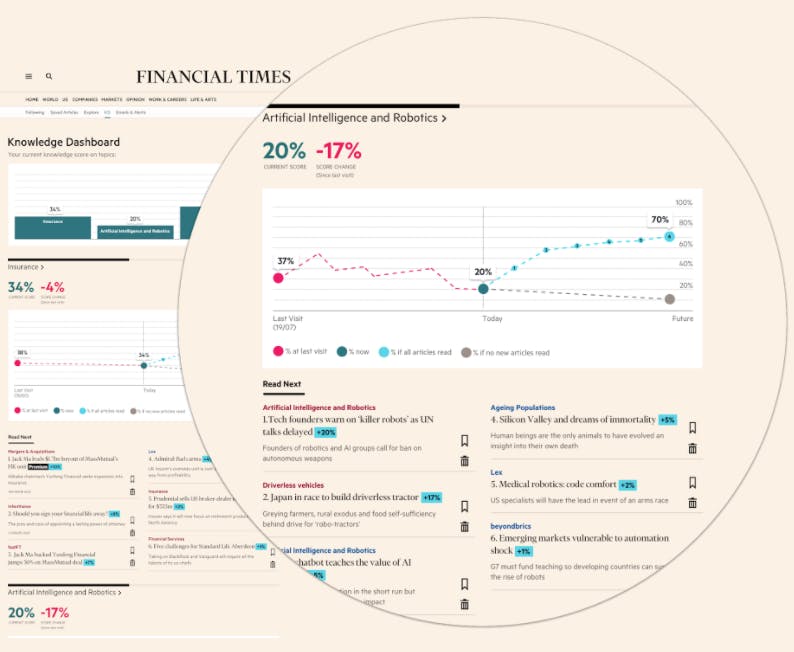 29 November 2018: The Financial Times is introducing Knowledge Builder, an experimental new FT.com tool that provides readers with a 'knowledge score' on key topics and suggestions for what they should read to increase their expertise within a subject area.
Knowledge Builder measures how familiar a reader is with a topic, based on their reading behaviour, and recommends the best content to quickly build their knowledge. It flags to the user if a subject hasn't been explored for a time, helping readers stay ahead with their reading.
"Knowledge Builder visualises and rewards reading progress, helping users save time and take control of their research efforts. It allows FT.com readers to build expertise in any subject, and in a way that works with their individual schedules. The recommendation feature creates a new incentive to keep reading the best news and analysis in relevant fields," said James Webb, Group Product Manager at the FT.
Knowledge Builder was created in partnership with :CRUX, a technology company dedicated to quantifying knowledge for users and premium publishers, and DNI funding from Google.
The tool, which is currently in testing, is available for FT subscribers.
 
-ends -

For more information, please contact:
Katrina Fedczuk
katrina.fedczuk@ft.com
+1 917-551-5093

About the Financial Times
The Financial Times is one of the world's leading business news organisations, recognised internationally for its authority, integrity and accuracy. The FT marks 130 years in 2018 with a record paying readership of more than 940,000, approximately three-quarters of which are digital subscriptions. It is part of Nikkei Inc., which provides a broad range of information, news and services for the global business community.