FT journalist lunch auction raises £120k for Sightsavers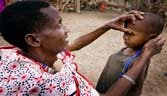 The Financial Times' recent online auction, calling for bids to win lunch with an FT journalist at a prestigious restaurant, has raised close to £120,000 for the charity Sightsavers.
Sightsavers, which aims to change the lives of some of the 39 million people in the world who are blind, is the recipient of this year's FT seasonal appeal. The appeal runs from November to January and involves reporting on a charity's work in print an online to encourage donations.
The auction ran from 1-11th December and offered bidders the chance to dine with editor Lionel Barber, management columnist Lucy Kellaway, chief economics correspondent Martin Wolf, fashion editor Vanessa Friedman and other FT journalists.