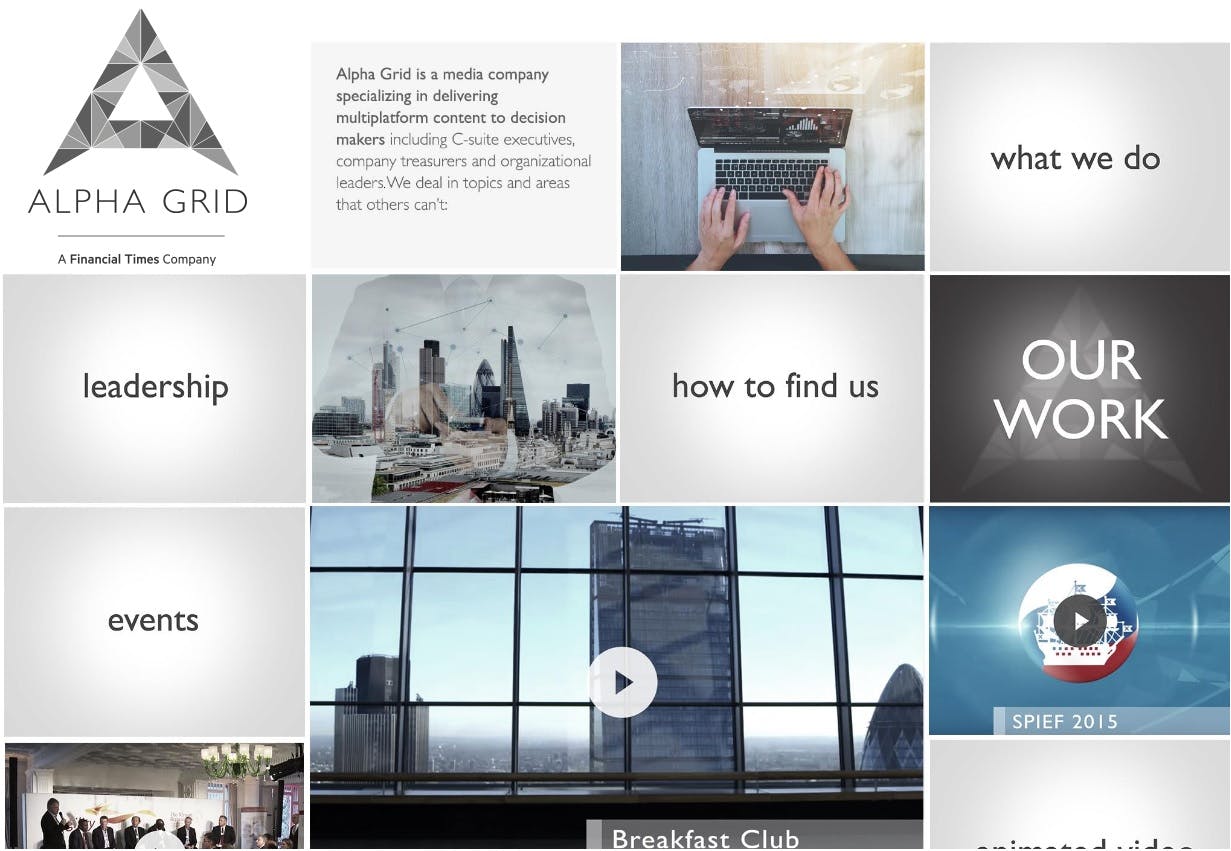 The Financial Times has acquired a controlling stake in Alpha Grid, a London-based media company specialising in the development and production of quality branded content across a range of channels, including broadcast, video, digital, social and events.
The investment builds on the growth of the Financial Times' content marketing studio FT2, launched in 2015. Revenues from branded content have risen by more than 30% since introducing the 'Paid Post' format, and the FT is seeing increased demand from advertisers for multimedia brand storytelling aimed at global decision makers – where Alpha Grid has a strong track record.
Alpha Grid provides a holistic approach to clients' communications strategies. The partnership will enhance the FT2 offering and support the creation of compelling brand content – from concept and research to development, design and build – for distribution on FT properties and elsewhere via paid, client-owned and earned media distribution.
FT CEO John Ridding said: "Alpha Grid, with its reputation for quality, innovation and strong client relationships, will further strengthen the FT's presence in branded content, especially in the area of digital and video. We have been working with the team for some time now and feel they are a strong fit for our strategy and ambitions."
Roslyn Shaw, managing director of Alpha Grid, said: "Our differentiator has always been our passion for business and financial content, and our ability to tell stories in a way that engages decision maker audiences, so we couldn't ask for a better partner than the FT."
As part of the acquisition, Shaw becomes executive creative director of FT2, as well as retaining her role as founder and MD of Alpha Grid. She will work closely with Ravi Mattu, who assumes the role of editorial director for FT2 this month. Previously, Mattu was tech, media and telecoms editor at the FT, and has had a 20-year career in journalism.
Last year, the FT's award-winning advertising team pioneered the Cost per Hour (CPH) advertising metric, a new approach to ad viewability which measures the amount of time users are exposed to an ad rather than clicks. The initiative is based on extensive testing that shows brand familiarity and recollection among readers increases significantly the longer an ad is in view. The FT has since run 32 CpH campaigns with 24 different partners
For more information please contact:
About the Financial Times
The Financial Times, one of the world's leading business news organisations, is recognised internationally for its authority, integrity and accuracy. Providing essential news, comment, data and analysis for the global business community, the FT has a combined paid print and digital circulation of 793,000. Mobile is an increasingly important channel for the FT, driving half of total traffic.
About Alpha Grid
Alpha Grid is a media company specialising in delivering multiplatform content to the intellectually curious – from senior decision-makers to ambitious millennials. We're about quality content, high-level audiences, a global outlook, a journalistic mindset and using smart content to grow your business. We do video, digital, social, publishing, events, strategy and research and we work globally, from our UK hub.

-->