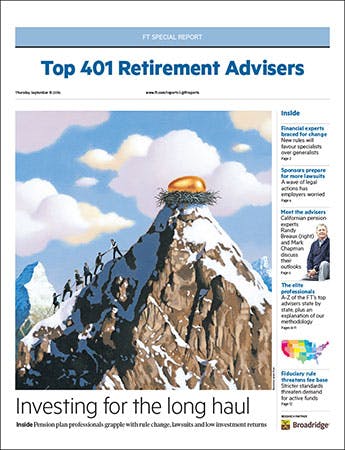 New Regulations Helping Specialists in Increasingly Competitive Market
The Financial Times today released the Financial Times Top 401 Retirement Advisers of 2016, recognizing the top financial advisers who specialize in serving defined contribution (DC) retirement plans. The second annual list was developed in collaboration with Ignites Research, a subsidiary of the FT that provides specialised content on asset management.
The average FT 401 adviser has 18 years of experience advising DC plans and manages $950 million in DC plan assets. They hail from 41 states and Washington, D.C.; California had the most advisers on the list, followed by New York and Texas.
FT 401 advisers are increasingly specialized: the average adviser on the list has 74% of his or her total practice's assets under management concentrated in DC plans, up from 71% last year.
Ignites Research created the methodology and ranked the advisers. Research partner Broadridge Financial Solutions, a provider of data solutions and market intelligence, supplied unique data from its proprietary databases that helped identify advisers who specialize in serving DC plans, including 401(k) plans and other DC accounts.
This year's list reflects an increasingly competitive industry, which is evolving thanks in part to the Department of Labor's new 'fiduciary rule.' The rule, issued in April, requires that by 2018 financial professionals must put their clients' interests before their own when selling retirement products.
"The DC plan market faces one of its biggest regulatory changes in a generation. As a result, additional responsibility is turning away advisers for whom DC retirement plans is a sideline, and more plan advising is concentrating in the hands of specialist advisers such as the FT 401," said Loren Fox, Director of Ignites Research and head of the FT 401 ranking.
The FT 401 advisers represent large and small brokerages as well as independent wealth-management boutiques. These organisations mostly see the new regulation as an opportunity. Brokerage giant Merrill Lynch leads all companies with 90 advisers on the list and, like some of its peers, has been growing its team of DC plan specialists and investing in training and educational resources for them.
More than one quarter of the FT 401's names turned over this year. Dozens of high-quality advisers just barely missed the list, edged out by peers with slightly more advantageous profiles.
Nearly 95% of FT 401 advisers have advanced industry designations, such as the CFP (Certified Financial Planner), which require additional courses of study. That's up from 92% last year, an acknowledgement that plan advising requires particular expertise.
To qualify for the list, advisers had to have 20% or more of their total client assets in DC plans, and at least $50 million in DC plans under advisement. Qualified advisers were then graded based on seven broad factors: DC assets under management, growth in DC plans and assets, degree of specialization in the DC business, experience, industry certifications, participation rate in DC plans advised and compliance record.
The full report is available for viewing here.
For further information please contact:
About the Financial Times
The Financial Times is one of the world's leading business news organisations, recognised internationally for its authority, integrity and accuracy. Providing essential news, comment, data and analysis for the global business community, the FT has a combined paid print and digital circulation in excess of 800,000. Mobile is an increasingly important channel for the FT, driving more than half of total traffic.
About Ignites Research
Ignites Research delivers original research and analysis on the retail asset management market. Our specialized reports provide valuable insight and actionable recommendations on distributing investment products via financial advisers. Ignites Research is a sister site to the popular online newsletter Ignites, and is a subsidiary of the Financial Times.

-->