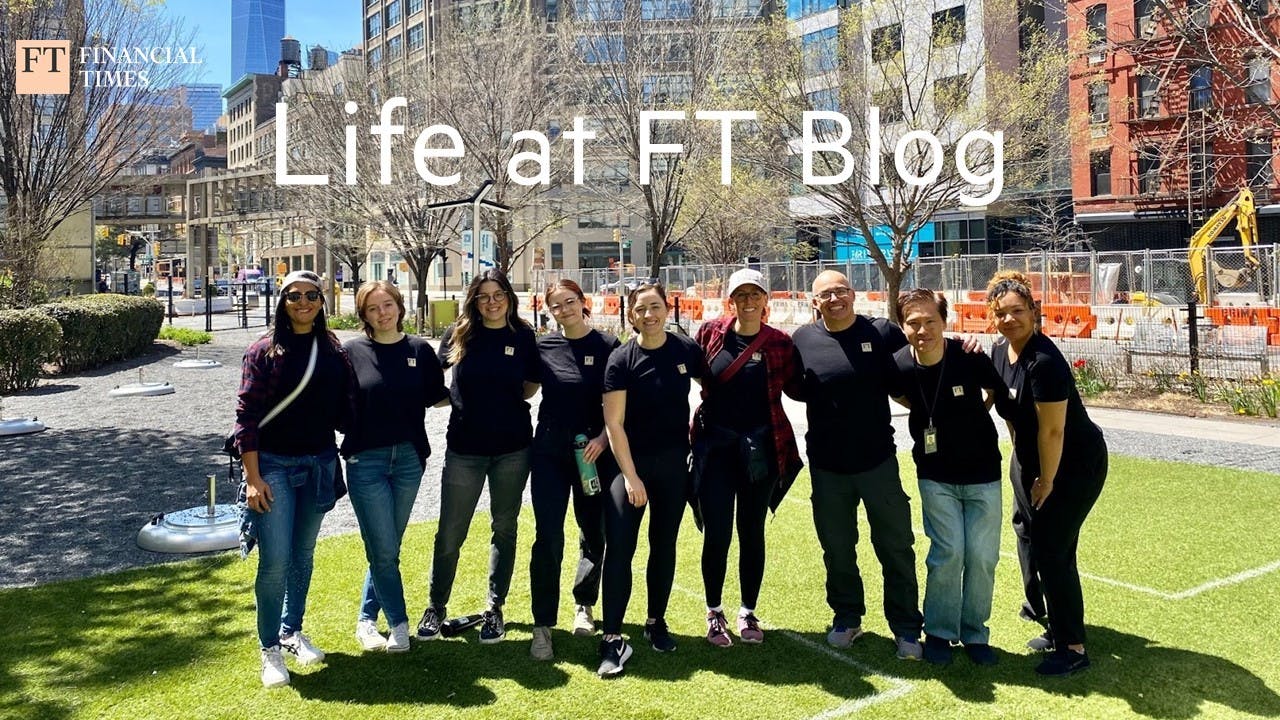 At the FT, we are committed to reducing our emissions as a business as well as advancing sustainable behaviours in the workplace. We have set science-based targets to reduce our total emissions through 2030, in line with the goals of the Paris Agreement to limit global warming to 1.5C, and will pursue a path to 'net zero' emissions by no later than 2050.
Below is an update on the efforts we have undertaken in the last six months to reduce our total emissions and champion sustainability inside and outside of the workplace. 
Our approach to business travel
Travel made up a considerable chunk of our total pre-covid emissions, so we are making a conscious effort to reduce this moving forward. Using our centralised global travel provider, we are able to better track travel and measure progress towards reaching our sustainability goals. We have implemented a travel policy whereby employees are encouraged to meet virtually where possible, and when travel is required, choose more sustainable options, such as replacing short haul flights with trains.
Reducing our energy usage
The FT is working with OakTree Power, a leading climate tech startup, to reduce energy use at our London headquarters and help us reach our net zero emissions ambition. The new tech modulates the consumption of non-essential electricity in our headquarters, which helps to ease congestion on the local electricity network. We have already released three megawatts of electricity back to the UK National Grid. 
How employees are getting involved
The FT Sustainability employee network has been working hard to improve waste management and reduce food waste across FT offices. The network rolled out new signage and "binfrastucture" at our London HQ, Bracken House to ensure everyone is better informed on how and what to recycle effectively. We've also scrapped single-use items such as paper coffee cups in our London and New York offices, and have started introducing circular waste products, like coffee logs and crisp packet planters.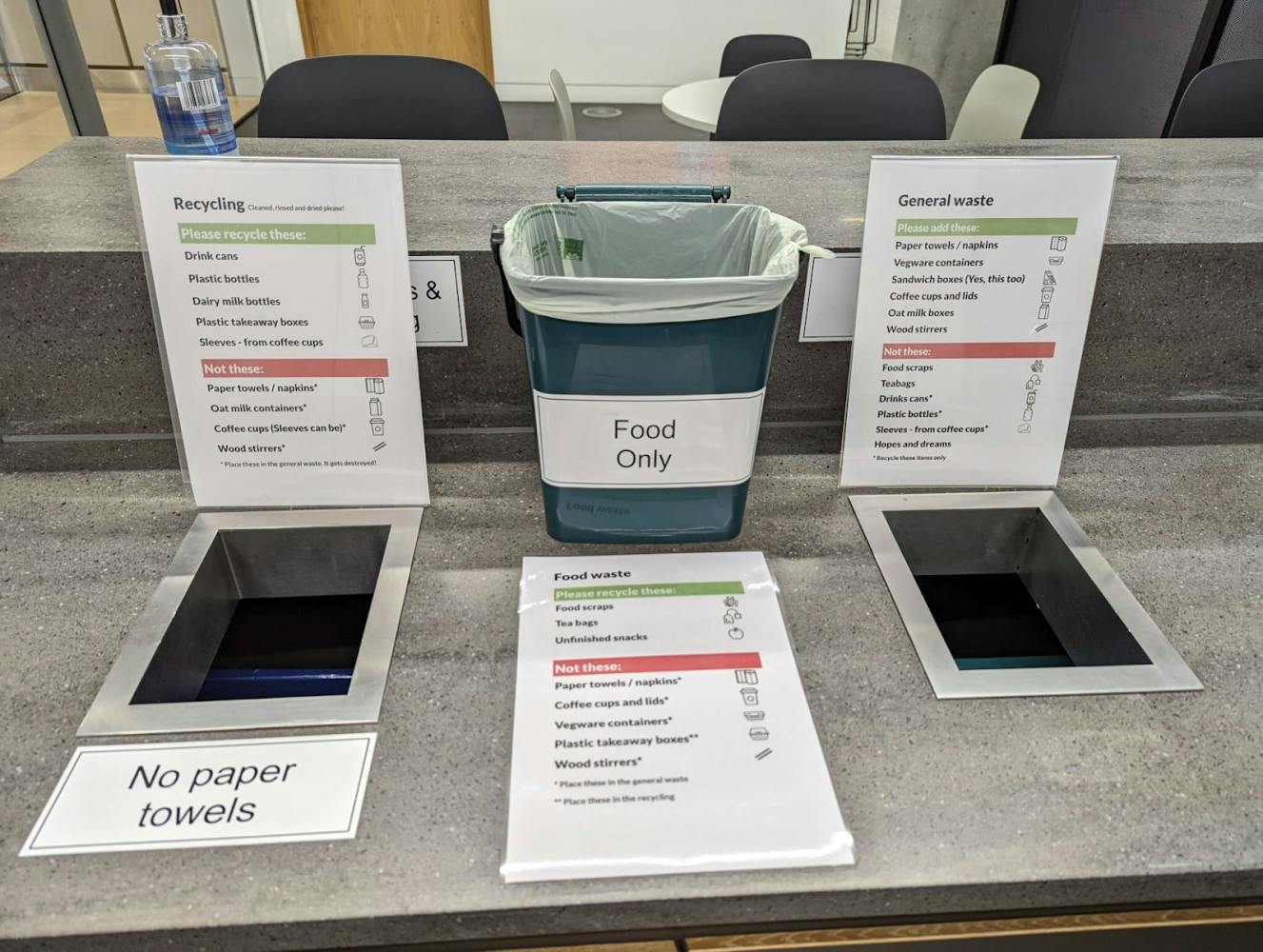 We also had a large number of employees participate in volunteering and on-site activities to champion sustainability during the summer and early autumn months. These included local tree restoration projects, daffodil planting, beach and river clean-ups, nature workshops, launching a clothing swap scheme at our London office and a recycled clothing drive. All FT employees are entitled to 2 paid volunteering leave days per year, so they are able to give back without having to take time out of their annual leave to do so.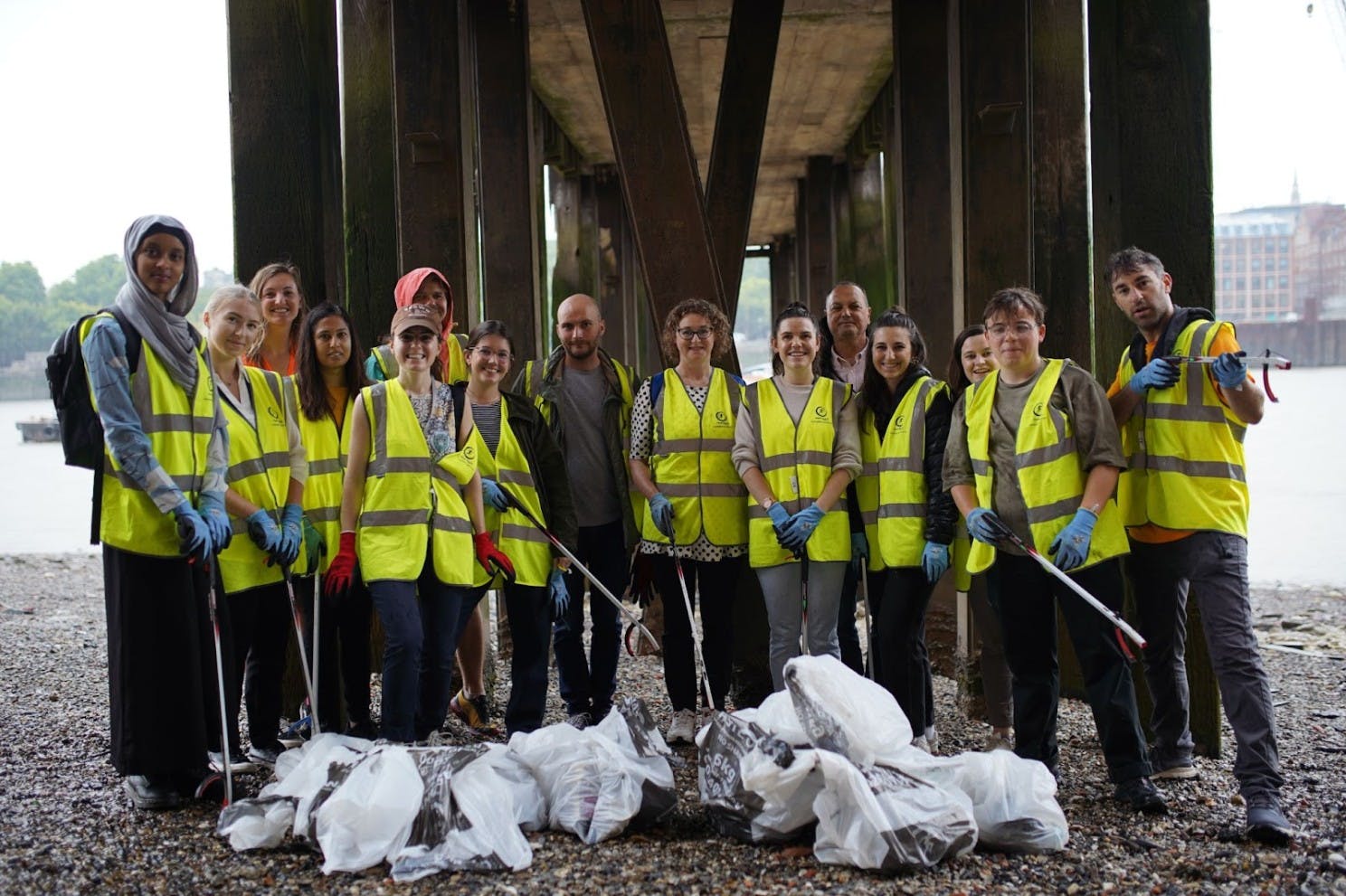 We have launched various initiatives in our newsroom to educate and inform our readers on the topic of climate change and sustainability and the overall audience for our climate change coverage continues to grow steadily and has a high level of engagement amongst our readers. 
In July, we launched the Climate Graphic: Explained. This is a newsletter based around the popular climate data of the week and a data visualisation article published on the Climate Capital hub page every week. The newsletter is one of the fastest growing at the FT
We also won gold in the Sustainability and Environment category at the Corporate Engagement Awards for the FT Climate Game, which challenges players to try and reach net zero by 2050. This informative and educational game will be showcased at the UN's COP27 climate summit in Egypt in November.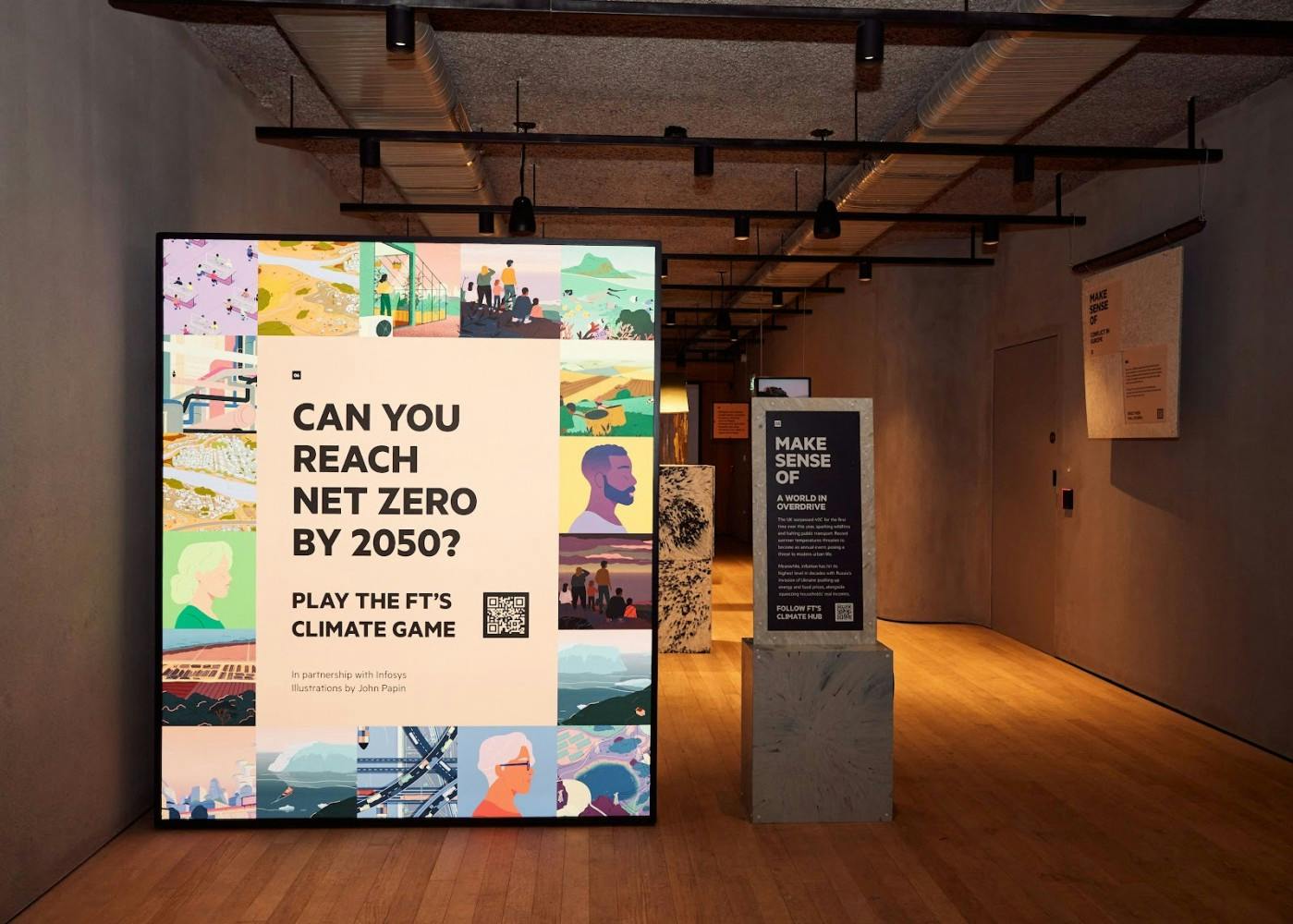 Pictured: The Climate Game at the 'Make sense of it all' gallery during Frieze Week

The FT collaborated with Nikkei to commission and co-fund a new video artwork called "Watt is Money?" that explores the real life environmental cost of cryptocurrency. The film was developed using new data provided by the University of Cambridge Centre for Alternative Finance and explores bitcoin 'mining' and the reasons why it requires so much energy. 

Examples of recent partnerships to champion sustainability

The FT has joined Business Declares, a network of more than 100 businesses that stand for urgent climate and ecological action and social justice. As a member, we'll share our journey with other businesses in the coalition, and be open about the challenges involved, to inspire others and add to the collective call for change.

We recently partnered with the conscious creative unit "Are You Mad?" (the world's first high-street plastic recycling studio) for our 'Make sense of it all' gallery during the London Frieze Week art festival . "Are You Mad?" focuses on collecting plastic from businesses, residents and passers-by from Carnaby Street, Soho and transforming it into design-led furniture and products that are sold inside the workshop. Are You Mad? designed and created all signage, props and branding for our immersive exhibition at No. 9 Cork Street and Frieze London, all of which is reusable for future events and experiences.  

Since last year, we've doubled the number of events and roundtable dinners we hold with The Conduit, a social impact membership club. Standout recent discussions include Climate Misinformation, AI and Bad Actors in the Energy Transition with Leslie Hook; Humanising Investment with Gillian Tett; and Hopes and Fears for COP27 with Emiliya Mychasuk.

The FT has also joined Lawyers for Net Zero, an initiative to bring together senior in-house legal counsel to discuss and share experiences on how we can help our businesses deliver climate action.

In addition to the above, we regularly offer complimentary print advertising space to partner organisations working in the sustainability space, to help promote the work they are doing. 

A key focus for early 2023 will be on our supply chain, as it represents the most significant element of our carbon footprint, and building a repeatable methodology that will allow us to annually measure our emissions and our progress towards our reduction goals. This methodology will allow us to understand which levers for reduction are having the most impact, and where we need to apply more effort. 

Our employees continue to play a vital role in this work and we encourage everyone to play their part in helping to make us a more environmentally friendly and sustainable organisation.

-->