Welcome to the Life at FT blog: a place where you can get an inside perspective on our workplace, people and culture.
The FT has an uncompromising mission: delivering independent, quality information, news and services to individuals and companies around the globe. It's the cornerstone of our reputation and the heart of our ambitions for the future. But for our people, the FT offers so much more than what we do. FT people come from all kinds of backgrounds and work across a huge range of disciplines and locations, and find an empowering, warm and welcoming culture that values curiosity and rewards smart, ambitious thinking. Those who are willing to unite around our mission and live our values will find plenty to challenge, inspire and interest them. Like the audiences we serve, no two FT people are the same; but together we help our audience be better informed and understand the world around them. It's a job that's never mattered more, and a career that can take you anywhere you want to go.
As we kick off 2023, we are are hiring across all our global offices and departments and in this instalment of the Life at FT Blog, our Talent Acquisition team will explain about the hiring process at the FT, what we look for in our new recruits and what you can expect when you interview for a role with us. 
Our Application & Selection Processes
We know that applying for jobs can often be a time consuming and stressful process, so we have made our application form as simple and concise as possible. We only ask for the relevant information we need to help us assess your eligibility for a role and have made a number of the fields optional, so you only have to input the information if you feel comfortable doing so.  As part of our commitment to diversity and inclusion, we ask a number of voluntary questions related to your background so that we can track the progress we are making when it comes to increasing representation across the FT.  
Once you have submitted an application, it will be reviewed by a real life member of our Talent Acquisition team (not an AI bot!) who has been specially trained to be aware of any biases they may have and assess a candidate's profile based on their experience and how it relates to the position we are hiring for. We aim to get back to all candidates in a timely manner, however, due to the high volume of applications we receive, we are unable to provide specific tailored feedback on your application unless you reach the interview stage of the recruitment process. 
What we look for in prospective employees & how to make your application stand out
When it comes to applying for a new role, it's always important to make sure you have thoroughly researched the company and job description to make sure your application is relevant and that you can tailor it as much as possible. This could be as simple as addressing your cover note to the specific hiring manager for the role you are recruiting for, or also including some of your favourite FT articles in said cover note. The better you have researched the role or department that you are applying for, the more you can tweak your application to include relevant information that would be valuable. 
Also, our recruitment team will be looking for evidence that you have had exposure to the key requirements of the role you are applying for, so you want to make sure these stand out on your CV. If you are looking to make a career change, or are just starting out in your career, and don't tick all the boxes of the job description, then think about what transferable skills you may have that you can highlight and be sure to draw attention to how these will be relevant to the role you are applying for.
At the FT, we place a big emphasis on identifying talented individuals who align with our company values. These are: curiosity, ambition, inclusion, integrity, trust & subscriber focus. Anything you can draw attention to within your CV, cover letter or supporting documentation of your application that shows how you have demonstrated these in a previous role or your personal life will support your application and show that you have researched the FT and what we stand for.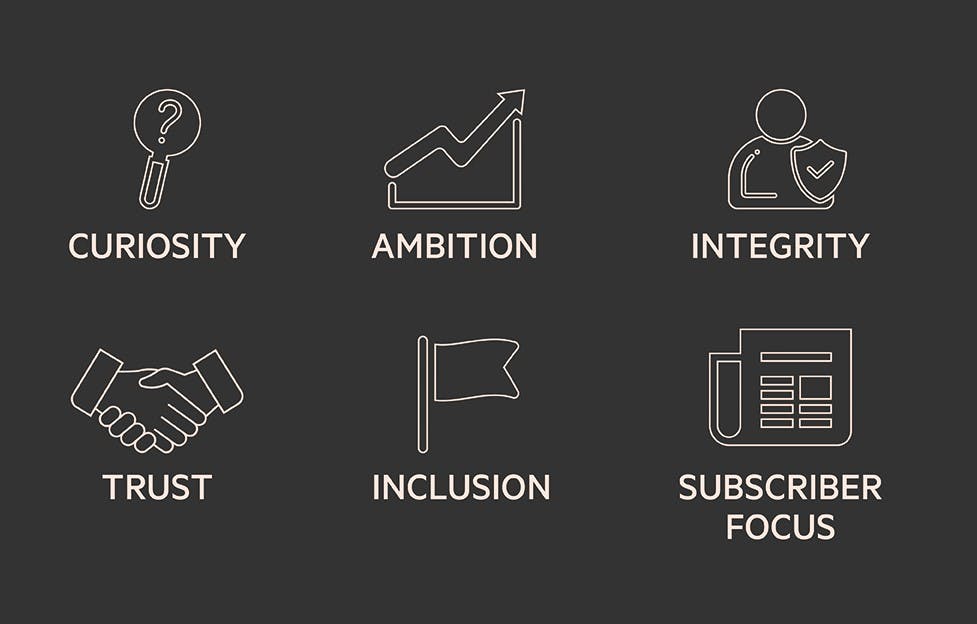 Once we have reviewed your application, and invited you for an interview, the first stage of the process will usually be a 20-30 minute call with a member of our talent acquisition team. During this call we will be looking for you to explain your previous/current experience and how it relates to the role we are recruiting for, as well as get some more information around your motivation to applying to the FT and we will also ask a couple of questions around your availability to start a new role as well as check your legal right to work in the country the role is based in. We may at this point ask your expected salary expectations, to ensure they align with the budget we have for the position. 

At the FT, we'll continue to remove barriers for all, and in particular barriers facing employees from underrepresented groups. We do this during the interview process by making sure we ask if you may need any reasonable adjustments to attend an interview or if there is anything an interviewer should be aware of when speaking with you in relation to your application. We encourage all candidates to be as open and honest with us throughout the process, and we will do all we can to accommodate any specific requests you may have. Following your initial call with our Talent Acquisition team, we will then share your application with the hiring manager of the position and will then decide who to invite to a formal 1st stage interview.

We commit to providing our managers with shortlists that are representative of the local labour market that the role is based in and will work to ensure that these are as diverse as possible so that we are giving as many people from different backgrounds the opportunity to interview with us. 

Our interview process is usually in two stages, as we appreciate that interviewing is a time consuming process, so we try to make sure our meetings are as structured as possible so that we are able to ascertain all the information we need to assess your suitability in as few meetings as possible. The first stage interview is usually with the hiring manager for the role you have applied for and will likely last approximately one hour. We do most of our first interviews via video call, to allow you to more easily schedule the meeting around your current commitments.  This interview will consist of a mix of behavioural and competency based questions and will be a chance for the hiring manager to get to know you and your experience. Don't be surprised if you notice your interviewer taking some notes during the call, this is to ensure we assess all candidates fairly when we decide who to take to the next stage of the process. 

Our final interviews are often carried out in person at the FT's offices, and will likely involve you meeting with a couple of members of your prospective new team as well as more senior individuals whose department the role will sit in. We will usually ask you to prepare a short presentation or do some specific prior research ahead of this meeting. Don't be afraid to ask the recruiter you are liaising with any questions you may have ahead of the interview, they will be able to support you and perhaps even put you in touch with the hiring manager directly so you can discuss with them.

Following your final interview, our recruitment team will get back to you (usually within a couple of days) to let you know if you have been successful in securing the role. If this is the case, we will discuss the details of your offer and all our FT benefits with you so you can get an understanding of the total package.  We offer all unsuccessful interview candidates feedback as to why they have not been selected, and will keep their details on our system after the interview so we are able to contact them should a more suitable role arise in the future.

If you are interested in finding out more about a career with the FT, or to see the current live roles we are recruiting for, then please do visit our careers site and follow our Life@FT account on twitter 

-->