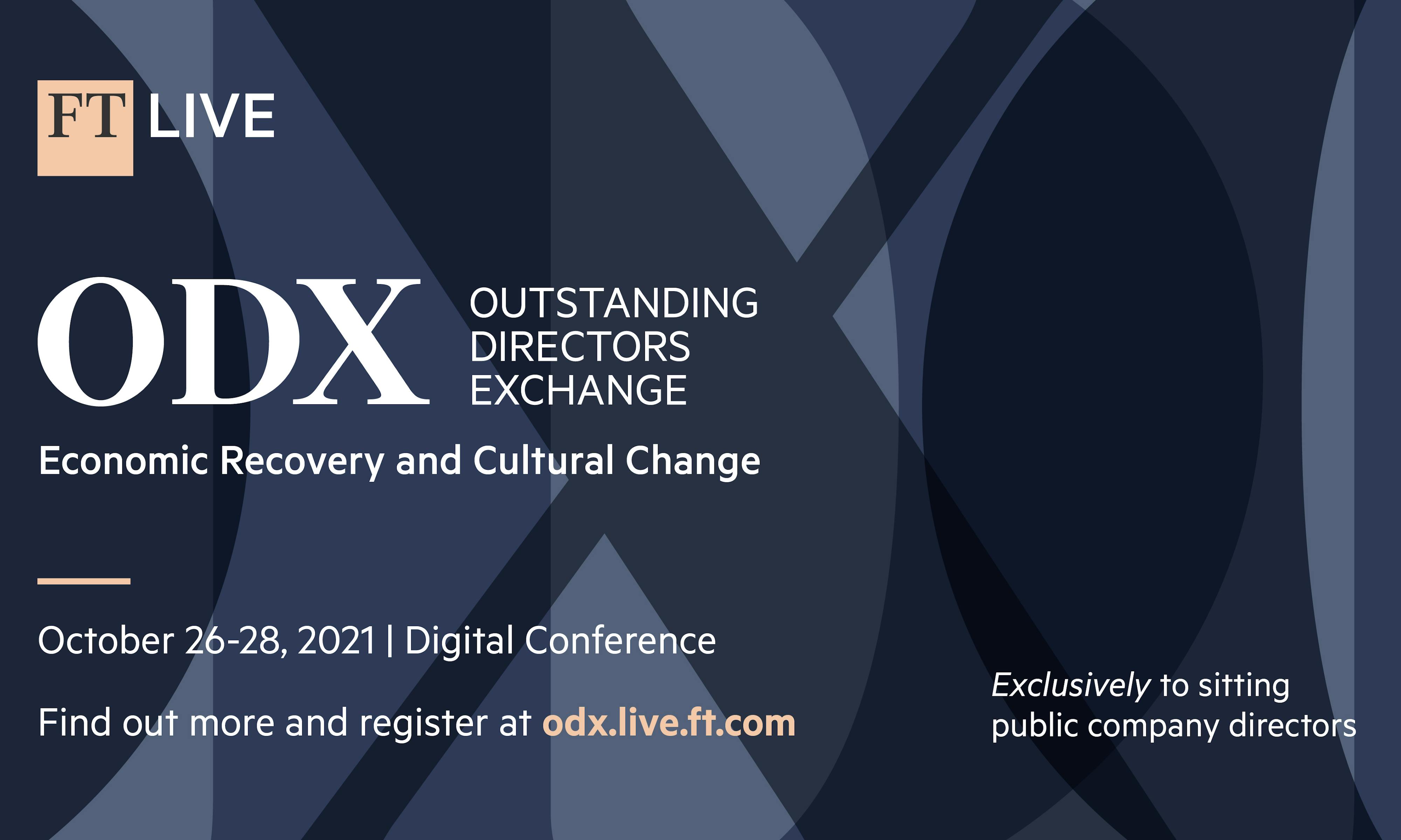 The Outstanding Directors Exchange (ODX) today announced the members of its Outstanding Directors Class of 2021. The Outstanding Directors Program honors independent directors of public companies who have been recognized by their peers as leaders who have gone above and beyond the call of duty. ODX, now in its 17th year, is an FT Live conference series that continues to be the gold standard for public company director education and community.
The Class of 2021 will share their best practices at a directors-only FT Live ODX conference — focused on economic recovery and cultural change — to be held online this fall, October 26-28. Attendance is limited exclusively to individuals serving on at least one public company board, and participants must abide by a code of confidentiality to encourage the kind of sharing that truly helps directors do their jobs better. 
Since its inception in 1998, the Outstanding Directors Program has acknowledged more than 140 corporate directors. The winners have all played key roles during important periods of transition and made strong contributions by demonstrating judgment, courage and integrity while acting in the interests of shareholders. 
Members of the Class of 2021 Outstanding Directors are: 
Douglas G. Geoga, President and CEO, Salt Creek Hospitality, LLC and Former President, Global Hyatt Corporation; Chairman: Extended Stay America, ESH Hospitality; Director: Kemper Corporation (until 2019). He has led STAY through several complex transitions with outstanding leadership, collaboration and integrity, including the company's transition out of bankruptcy in 2010, becoming a public company in 2013, guiding the board through several recessions and navigating the current Covid-19 crisis.
Cheryl Mayberry McKissack, President and Co-Owner, Black Opal LLC, Founder and CEO, Nia Enterprises, LLC and Former CEO, Ebony Media Operations; Non-executive Chairman: Deluxe. She provided critical leadership during a recent CEO transition at Deluxe and has been instrumental in working to ensure the CEO and board were aligned on the company's transformation plan, which accelerated during the pandemic.
Frederic V. Salerno, Senior Advisor, New Mountain Capital and Former Vice Chairman and CFO, Verizon; Chairman: Akamai (until 2021); Lead Independent Director: Intercontinental Exchange, Associated Capital Group; Director: Madison Square Garden Entertainment. As the first independent chair of Akamai, he steered the board through a cultural transformation while simultaneously engaging as an activist, fighting for changes that would benefit the company long-term and supporting management in a corporate strategy pivot. 
Dona D. Young, Retired Chairman, President and CEO, The Phoenix Companies; Lead Director: Foot Locker; Director: Aegon N.V., USAA. As lead director of Foot Locker, she has always taken time to build relationships across many levels of the company and fostered a culture on the board that has brought the best out of each individual director, an on-going investment that has seen the company through a successful strategy and organizational redesign and ultimately enabled it to weather one of the most turbulent moments in the company's history, given the unprecedented nature of the global pandemic and its profound impact on the retail sector.
Candidates for Outstanding Director are nominated by their peers, fellow board members. Selections are made by the Outstanding Directors editorial board under the guidance of an Advisory Board composed of respected independent corporate directors from a cross-section of American industry. 

For further information please contact: 

Mark Staniland
Financial Times Senior Communications Manager

About the Financial Times

The Financial Times is one of the world's leading business news organisations, recognised internationally for its authority, integrity and accuracy. The FT has a record paying readership of more than one million, three-quarters of which are digital subscriptions. It is part of Nikkei Inc., which provides a broad range of information, news and services for the global business community.

-->