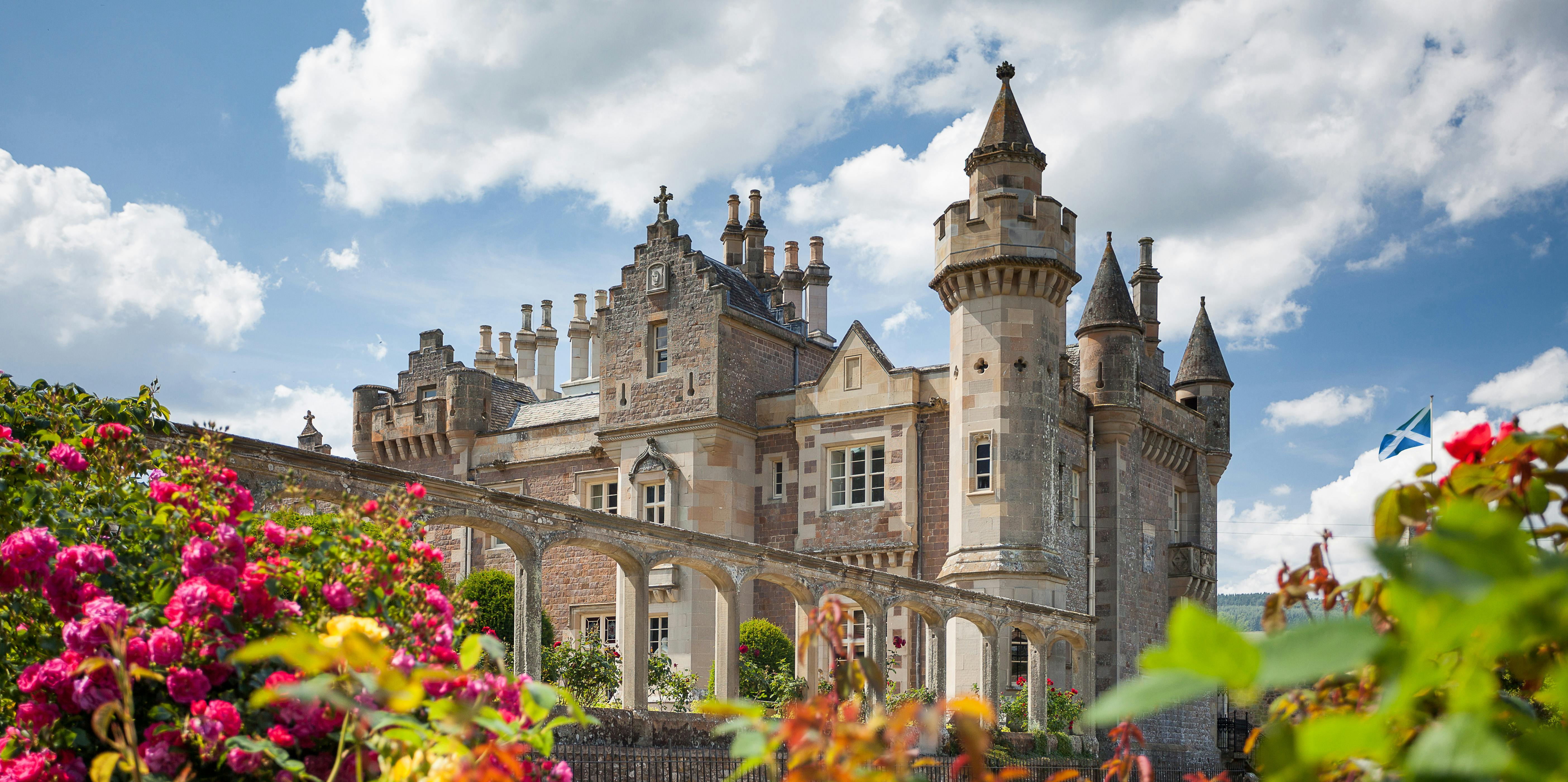 The Baillie Gifford Borders Book Festival, this year being held in November at Abbotsford, home of Sir Walter Scott, announces a new media partnership with the Financial Times, one of the world's leading news organisations.
The Scottish Book Festival returns for the first time since 2019. The full line-up of more than 60 events, including three hosted by FTWeekend, will be announced next week, when tickets go on sale for the six-day book festival, running from 2-7 November.
Alistair Moffat, Festival Director, said: "We are so pleased to be welcoming the Financial Times on board as our media partner and are excited to be working with them in a year that sees our iconic Book Festival return after such a tumultuous 18 months at the hands of the Covid-19 pandemic. The three Financial Times events included in the programme reflect some of the most pressing concerns of our world today, both nationally and internationally, and we hope that our audiences will find them insightful, thought provoking and absorbing in equal measure."
The Financial Times series, addressing a number of the biggest political and economic issues of the day, features some of the brightest minds from the worlds of journalism, politics, economics, diplomacy and academia.  
Gavin Esler, author of How Britain Ends: English Nationalism and the Rebirth of Four Nations, Ailsa Henderson, Edinburgh academic and author of Englishness, The Political Force Transforming Britain, and Sebastian Payne, The FT's Whitehall editor and author of Broken Heartlands, A Journey Through Labour's Lost England, will debate the rise of nationalism south of the border. FT  literary editor Frederick Studemann will moderate the discussion as they consider whether Scottishness is more a product of Englishness than we might imagine.
Sir John Kay, the celebrated British economist, leads a debate on the pros and cons of a Scottish currency. Joined by GillianTett, Chair of the editorial board of the Financial Times, and Martin Sandbu, the paper's European Economics Commentator, Kay examines what the end of the currency union might mean and whether it is at all desirable on either side of the border.  The event will be chaired by Mure Dickie, the FT's Scotland correspondent.
In addition, Tom Tugendhat MP, a former soldier himself, and now a Conservative MP whose recent speech about Afghanistan earned applause in Parliament, discusses with Alec Russell, FTWeekend editor, the 'abandonment' of Afghanistan by the West.  As Chairman of the Parliamentary Foreign Affairs Committee, Tugendhat considers what this means to military veterans in the UK and US, and how best to define 'Global Britain', in an event that promises to be as provocative and moving as Tugendhat's address to Parliament.
James Lamont, Director of Strategic Partnerships at the Financial Times, said: "We are delighted to support the Baillie Gifford Borders Book Festival this year and to fortify its strong line-up of speakers, especially during a period of heightened political debate in Scotland. Our goal is to promote informed discussion of big international issues like the future of the UK, Britain in the world and economic recovery post-pandemic. We're eager to engage with this well-established festival's diverse audience.
"Our experience at the FTWeekend Festival in London this month showed that audiences are once again ready to interact with authors and opinion makers at high-quality, in-person events."
The Book Festival, which has run since 2004, welcomes the continued support of Title Sponsor Baillie Gifford and Key Sponsor McInroy & Wood, as well as Cullen Kilshaw, Saltire Roofing & Building Ltd, Davidson Chalmers Stewart, DM Hall, and the on-going funding of Scottish Borders Council, Creative Scotland and many other loyal supporters.
For more information and images, please contact: 
About the Financial Times
The Financial Times is one of the world's leading business news organisations, recognised internationally for its authority, integrity and accuracy. The FT has a record paying readership of more than one million, three-quarters of which are digital subscriptions. It is part of Nikkei Inc., which provides a broad range of information, news and services for the global business community. The FT partners leading book festivals in Oxford, Dalkey, Segovia and now Melrose. 
The Baillie Gifford Borders Book Festival takes place at Abbotsford, Melrose, in the Scottish Borders, between 2-7 November 2021.The full programme will be available from next week at www.bordersbookfestival.org and tickets can be bought via Citizen Ticket at www.bordersbookfestival.org or by calling 0131 290 2112.

Baillie Gifford is an independent investment partnership and the UK's leading investment trust manager, managing 10 trusts including Scottish Mortgage.  Founded in 1908, it is headquartered in Edinburgh, where most of its employees live and work, and employs over 1,400 people. As part of its sponsorship programme, the firm supports a number of initiatives in the arts, academia and local good citizenship. In the literary world, Baillie Gifford sponsors a number of literary festivals, including being headline sponsor of the Baillie Gifford Borders Book Festival. It is also the sponsor to the UK's leading non-fiction prize, The Baillie Gifford Prize for Non-Fiction. 

McInroy & Wood provides a discretionary investment management service to individuals, families, trusts and charities. Family control and employee ownership have preserved a consistency of approach, culture and quality, which are all crucial to the lasting relationships we seek to build with clients. Direct investment in global securities markets ensures a competitive service and complete control over investments. Founded in 1986 and headquartered in Haddington, East Lothian, the firm also has offices in London and Harrogate.

Family series sponsor Saltire Roofing & Building Ltd is the multi-trade company that makes a difference. They pride themselves on being first for customer care and guarantee a high quality, superior service to both domestic and commercial clients. They are committed to cutting their carbon footprint because they want to protect the environment for future generations. Community is at the heart of their business, and they proudly support a number of charities and local projects. Find out more at www.saltireroofing.co.uk 

Walter Scott 250 is a national celebration to mark the 250th anniversary year of Sir Walter Scott's birth on 15th August 1771 and to explore his legacy in the Scotland of today. A partnership network of more than fifty organisations are planning events, academic projects, publications and exhibitions across 2021-2022. The anniversary programme across Scotland is supported and facilitated by the Abbotsford Trust, the independent charity responsible for the home, collection and estate of the famous author.

Other sponsors, funders and supporters of the Borders Book Festival for 2021 include: Creative Scotland, Scottish Borders Council, Cullen Kilshaw, Cameron Strachan Yuill Architects, The Borders Distillery, DM Hall, Davidson Chalmers Stewart, Bowhill & Buccleuch, EcoSafety and Border Toyota.
-->